« March 2008 | Main | May 2008 »
April 06, 2008
TSOTC Comparative Review: Library of Congress vs. Georgetown University Library
Letâs just make sure that I never get a job at Georgetown or with the federal government, shall we?
GEORGETOWN UNIVERSITY LIBRARY
Borrowing privileges: Virtually unlimited with visiting scholar temporary library card.
Ease of access: Medium. Circulator bus to Georgetown area,then walk uphill on slippery bricks to campus. Or, lie and cheat your way onto the shuttle from Dupont Circle, then get lost on campus.
Hours: Claims to be open until 2 AM. Seriously!
Surrounding area: Ranges from swanky to student.
Building: Hideous. Almost as hideous as partially demolished McHenry Library at UCSC.
View from building: Impressive. These nearby buildings are very nice. But theyâre not the library.
Religiosity: Jesuit. Pbbbbtht!
Holdings: Small, strangely conservative. Distinct gaps in Lukacs and Marxist criticism.
Staff: Patronizing, intrusive. Likely to lecture you about proper copier use. Likely to interrupt you repeatedly to ask why youâre enlarging things.
Things youâre not allowed to bring in: Snotty visiting scholar attitude; desire to Xerox without consultation.
Substantive work accomplished there so far: Iâve got the reader for my summer course 99% assembled. Most of the work took one marathon day.
Need to leave the building at some point: High. Virtually deserted; easy to spend twelve hours there; will drive you insane.

THE LIBRARY OF CONGRESS
Borrowing privileges: Not as such. The books youâre allowed to touch are delivered via conveyor belt to my study shelf, where I can keep them as long as I need them. I can take digital pictures of prints, photographs, and maps. I can pay for someone else to photocopy the things Iâm not allowed to touch.
Ease of access: Farragut West to Capitol South. Piece of cake.
Hours: Limited, extremely punctual. Surprisingly variable between buildings, reading rooms, and days of the week.
Surrounding area: Government center. Opulent, impressive, purposeful. Also, perpetually under construction/renovation.
Building: Gorgeous. There are three buildings, of which the Jefferson Building is the main and the most beautiful.
View from building: To your right, the Supreme Court. Straight ahead, thatâs the Capitol.
Religiosity: Separation of church and state, baby!
Holdings: More than 500 miles of books and other print materials. 10,000 new materials acquired per working day. Holy shit.
Staff: Patient, capable, helpful, friendly, welcoming. Deliver armloads of materials to you without you having to lift a finger. The one guy in the map room gets kind of annoyed when you don't know what you are looking for and are evidently fucking around, though.
Things youâre not allowed to bring in: Weapons, musical instruments, camping equipment.
Substantive work accomplished there so far: Unclear. Iâve looked at political cartoons and spent several hours locating funny place-names on 1890s survey maps. Oh, and I discovered that the San Fernando Valley, in which I grew up, used to have a slightly more desolate and Old-Westy name.


Need to leave the building at some point: None whatsoever. Large chunks of Capitol Hill are connected by a series of underground tunnels. The cafeteria on the 6th floor of the Madison building has better food than a lot of restaurants in Santa Cruz. It has its own credit union. The Library is basically a citadel. Oh, except they will kick you out at 5.
Posted by katie at 01:29 PM
April 05, 2008
TSOTC: Photoblah.
I finally got my pictures back from CVS and discovered, a week and $14.28 later, that theyâre horrible prints of terrible pictures. So much for an update about my gorgeous nighttime monument tour, for waxing rhapsodic about the daunting beauty of the Library of Congress, or for remembering what the heck else I did thatâs supposedly captured in these pictures.
It may help you to appreciate the following if I stress that these represent the MOST worthwhile and decipherable pictures on the roll.

I got a halfway OK picture of the Washington Monument surrounded by kites. This was last weekend, when I was desperately sick, and went to the cherry blossom festival/ kite-flying competition with a couple of friends.

Then I got tired and had them point me toward the nearest Metro station so I could head back to the Center and sleep. On the way I apparently encountered a group of nuclear refugees â perhaps appropriate for a cherry blossom festival celebrating the history of âfriendshipâ between the US and Japan.

The next night we went out for a nighttime tour of monuments. The White House is a lot smaller than I would have expected from the movies, but youâll have to take my word for it because the beautiful set of size-comparison shots I thought I took of the little White House and its neighbor the enormous Treasury building didnât come out at all. But that night wasnât a total loss â I managed to capture evidence of the supernatural. Ladies and gentlemen, I give you the Ghost of the Lincoln Memorial!

This next one took me quite a long time to figure out, because it appears to be a shot of a taxicab. I know I live in a smallish town back in California, but itâs not like Iâve never seen a cab before, so what the fuck? I had to stare at the picture for a really long time before I finally realized why I took it, which, because it was from before I had a camera with zoom, you wonât be able to see. Inside the building behind the cab, thereâs a sign that reads âUnited States Mint.â The sign on the outside of the window is offering the building for lease. Iâm taking this as a bad sign, folks â you might not want to lag on converting those dollars into Euros.

However, lastly, thereâs this one. Even with my cold, even with my shitty disposable camera, I managed to take an absolutely lovely, jigsaw-puzzle, picture-postcard photograph of the Washington Monument framed by cherry blossoms.

No, really, go back and take a long look, because I want you to get $14.28 worth of enjoyment out of that picture.
From now on, itâs OK, itâs all digital.
Posted by katie at 10:57 PM
April 02, 2008
TSOTC: Photoblog!
This afternoon I avoided work by taking a long walk around the neighborhood I'm living in. I took a lot of photos until I got sidetracked into shoe shopping and fell in love with a pair of beautiful red El Naturalista pumps I really can't afford. I mean, I'm tempted to spend all my money on shoes here and then go back to California with no place to live and no money, since I've seen that work out so well for others in the past. Oh wait, it didn't.
Anyway, as I keep saying, I'm living in a great area. I was actually going to walk further around today, but spent a few hours just roaming my neighborhood taking pictures of shit.
This is the UC Washington Center building. I live on the top floor.
We're toward the end of a series of streets known as "Embassy Row." Here's the other end. All of these row houses are the embassies. On the left, Greece, um, Sweden, I can't remember what else. On the right, Ireland, Trinidad and Tobago, Luxembourg, Egypt, and Togo.
They're all about the same size, which means Togo gets about as much embassy as Egypt does. I think they should be proportional either to landmass or population, so that Ireland would have a regular house and Luxembourg would be in a kiosk.
This monster is Turkey:
Here's a super-artsy shot I took of some more stuff through the legs of the horse in the statue of some guy named Sheridan:
Aaaaand the obligatory picture of my thumb, which probably is covering up something really interesting.
Yeah, I'm not the best photographer. Anyway, I'm at the other end of Embassy Row, and I think my favorite thing down at my end is the Kazakh embassy. This is their official statue of a knight riding a winged jaguar. It was put up last year, and I have to think that its seriousness is in some kind of response to Borat.
I like to think that I live in the California embassy.
But the blue sign barely visible in the lower left of this picture insists, with total inaccuracy, that the White House is located inside my apartment,
which is pretty much exactly where the arrow is pointing to.
We have a monument to Daniel Webster in the traffic circle right outside,
although when I first saw it I misread it as a Noah Webster monument and got all excited. We also are next to the Human Rights Campain building - see the equality flag on the roof?
A hell of a lot of the really cool buildings around here are churches. This is the one Teddy Roosevelt used to worship at: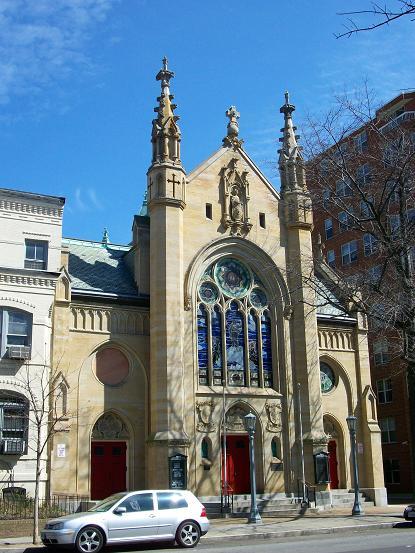 The plaque to the right of the door reads: "On this site in 1976, a historic plaque was affixed to this building."
This is another cool old building which actually isn't a church. The city is full of this shit:
And, here and there, really fantastic high-modernist and postmodern architecture as well, like this building, which is an economic something or other:
with an interestingly deconstructed globe out front (representing, um, globalization?). Note: this is a candid bird, not a stunt bird.
Finally, for your edification, a statue of a woman doing a poor job of covering her boobs:
And one of Taras Shevchenko, the Bard of the Ukraine:
I don't know if his work is really as great as all that -- perhaps you can judge for yourself:
And a man wearing his napkin on his head while he eats lunch, for reasons which I suspect are clear to him alone:
And lastly, the famed Dupont Circle,
where there is a bookstore that has a bar in it, which is open all night. That is my kind of bookstore.
That's crap from about a five-block radius around my place. More substantive pictures when my film comes back from CVS, if it comes back from CVS. I'm going to get more selective about taking pictures, I think, although I'm currently feeling compelled to document everything, like our woefully expired elevator.
Posted by katie at 02:52 PM
April 01, 2008
The Scene of the Crime: Iâm Getting Paid For This?
Today I left the apartment at 10:57, coffee mug in hand, for my 20-second elevator ride to my studentsâ 11 AM seminar.
I spent a couple of hours brainstorming with the students about research paper topics about which they are far more knowledgeable than me. This is unsurprising, since most of them are econ and politics majors, and I only sound like I know about economics when Iâm talking to other humanities people.
I came back to my apartment, which is essentially 1/3 of a hotel room, and had lunch.
Later my friend the Graduate Fellow (henceforth GF) from Irvine and I went to the bookstore and we got maps for our trip next weekend to Philadelphia. Sheâs got an actual conference to go to there; I just want to go see the city. So weâre splitting hotel costs and cheap bus fares. She called the hotel in Philadelphia to change her room from one large to two small beds.
âNo,â she said on the phone. âThere isnât an extra person staying. I justâneed an extra bed. Forâmedical reasons. Oh, you've removed the $20 extra person surcharge? Thank you.â
Then the law student from UCLA came over to see who wanted to go for late-night ice cream because itâs so warm and beautiful outside. The guy who lives in the apartment next to mine is a Community Advisor (henceforth CA) here in the Center, knows everything and everyone around here, and loves ice cream. So we walked over to Larryâs Ice Cream in Dupont Circle, which he claims is the best ice cream in the city. They were closing when we got there just past 10, but when the owner saw the CA through the window, they stayed open for us.

âWhat do you want?â the owner asked the CA.
âOh, Iâm doing great,â the CA said.
âWhat?â the owner asked.
âIâm great. Didnât you ask how I was doing?â the CA returned.
âI donât give a shit how youâre doing, my friend,â the owner said. âI asked what do you want?â
âOh. A cone with Oreo cookie ice cream,â the CA said.
âThatâs more like it,â the owner said.
I got Oreo ice cream too. UCLA got Reeseâs peanut butter. As soon as we left with our cones, it started raining on us, fast and hard. We ran back to the Center in the warm rain, cones dripping all over the place. I finished mine right as we got back to the Center and the rain stopped.
Tomorrow I have another study day at the Library of Congress and then we have Poker Night.
Oh, and I got myself a present this afternoon: I broke down and got a fucking camera already. Because I am a Luddite and a latecomer to technology, this is exciting. Because I am a Luddite and a latecomer to technology, I'm still figuring out how to upload photos. I rationalized the purchase thusly: I was eventually going to spend the same amount of money on disposable cameras and film processing as I would on a low-end digital camera, without the benefit of zoom or, you know, picture quality. And evidently CVS is none too quick at the photo processing, because when I dropped my first disposable full of pictures off yesterday, the trainee clerk said, âUm, I think your picture CD will be back Wednesday.â
âWhyâd you tell her that?â the manager asked. âYou know itâs until Friday.â
âReally?â I said.

âYou want these pictures?â the manager said.
So I have almost a weekâs worth of updating to do, but itâs waiting until my pictures come back so I can remember what the hell I did. Nighttime tour of monuments; cherry blossom festival; Library of Congress; Georgetown; beer and darts; lots of getting lost.
Iâd like to point out that technically Iâm working right now.

Posted by katie at 08:19 PM